Best ERP Software Company in Chennai
ERP (enterprise resource planning) is a process used by companies to integrate the crucial elements of their businesses. It greatly aids in managing the day-to-day activities in business. Some of the activities include accounting, project management, performance tracking, etc. Companies need ERP software to implement resource planning by streamlining a wide range of processes necessary to run their businesses with a single system. In addition to planning and inventory, ERP systems integrate sales, marketing, finance, human resources, and more. With the presence of ERP systems in business, one could significantly manage the operations in the company, thereby minimizing the costs and eradicating the possible errors which could arise during the course of progress in manual data entries, ecBill ERP Software is one of its kind of software which is worth to implement.
How does ecBill's Enterprise Resource Planning work for your company?
In a large organization, an enterprise resource planning system binds together the different computer systems. The departmental systems would be optimized for their specific tasks if there were no ERP applications. With ecBill ERP software, departments keep their systems, but they are managed through a single application.
ecBill ERP application can help an organization become more efficient by linking all aspects of production, finance, distribution, and human resources. Our ERP application can help eliminate costly duplicates and incompatible technology since it connects different technologies used by various departments. It often involves integrating accounts payable, stock control, order monitoring, and customer databases into one system.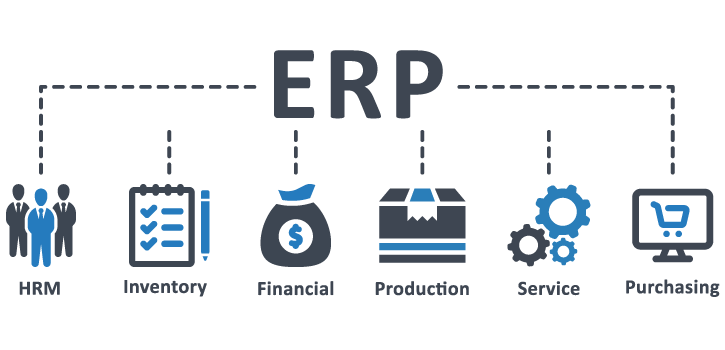 Advantages of having ecBill ERP Software:
Businesses use ecBill's enterprise resource planning (ERP) for several reasons, including expanding business, reducing costs, and improving operations.
When business processes are integrated and automated, they are more accurate, more productive, and eliminate duplication. With interconnected processes, departments can now synchronize work to achieve faster and better results.
Businesses often benefit from enhanced real-time reporting through a single system. Accounting and reporting are crucial to the way organizations plan, budget, forecast, and inform interested parties about their operations, such as shareholders.
ecBill ERP improves customer and employee satisfaction, faster response times, and improved accuracy by providing clients, vendors, and business partners access to crucial information. Companies that operate more efficiently often experience lower costs associated with them.
Employees will be able to see how the different departments contribute to the mission and vision of the company, as well as how they can collaborate and share knowledge. In addition, employee time is freed up for more meaningful work by eliminating menial, manual tasks.
Relationship between Data intelligence and ERP solutions
Data intelligence is defined as an influential tool that provides users with profound insights existing in the current business. The insights can be customers' behaviour, trends in the market, progress analytics of the respective company, etc. However, direct access to such beneficial pieces of information doesn't come free of cost. Only professional ERP software can be able to unlock the pathway to access. The major reason for shifting to proficient ERP software is that the outcomes will be more accurate than manual approximations. The information from the software ultimately drives the growth and development of the company. Enterprise Resource Planning Software enables users with the necessary tools that are specifically needed for an organization to examine and come up with better solutions. Such tools include customizable dashboards, easily understandable metrics, etc.
Know about the business values of ecBill's ERP
The benefits that could be seen through the usage of ecBill ERP software make them unavoidable in the business world. Business value is defined as the valuable factors that signify the company's or organization's soundness in the final analysis. While making a list of values through ecBill's ERP, a company can possibly experience the following characteristics.
Maximized efficiency: ecBill ERP software can bring out the finest possible ways that favour a business environment, such as managing functions and processes.
Precise results: ecBill ERP can provide its users with actual business analytic reports and data values.
Minimized risk: With better data in hand, a company could track the duplicate wastage of costs and take adequate control over the finance.
Better collaboration: ecBill ERP software provide good space for users to customize their presentations and analytic report, which is further discussed among the others. This leads to an improvement in the professional environment while playing with data and values.
ecBill ERP software is not only for big companies but also plays a vital role in small and mid-sized companies. They help in getting a clear view of the data and flow of operations. The clarity in data flow further leads to clearness in taking efficient decisions.
How does ecBill ERP software transform your company?
Technologies bridge the gap between innovation and reality. Enterprise Resource Planning software delivers shape for the abstract ideas in a single mind to a flourishing business growth, nourishing the peers. ecBill ERP helps an organization stay organized for quick accessibility of data. Every business should have a clear picture of its data requirements, such that it can precisely choose its ERP software. With the right implementation, the software can reduce costs, increase the efficiency of the business, earn insights from the current flow, etc. The extent of the performance of ecBill ERP solutions can be seen in inventory tracking, multi-currency capabilities, and integrated analytics, which pave the way for innovative business solutions. The ecBill ERP software can provide insights into customer likings and their present buying patterns in their respective industry. This acts as real-time data for the firm that serves as a piece of essential information while making significant decisions.