ERP Software for Supply Chain Management in Chennai
In the daily updating world, it becomes crucial for companies to be on track with technologies at the right time to succeed in their targets. One such emerging technology which significantly aids the easier management of the business is Enterprise Resource Planning Software. The ERP software furnishes companies with one of the most powerful tools for supply chain management. The ERP software is a comprehensive system that is incorporated with numerous features that assist in better business processes and operations. With ERP software, planning and decision-making have become easy because the software furnishes the users with real-time data like customer demands and needs in the market, current trends, and reports on business analytics. This article discusses the software's efficiency, its advantages, and reasons for choosing ecBill as your service provider of ERP software.
Know about the Supply Chain Efficiency with ecBill ERP
Supply chain efficiency has emerged as an inevitable factor that plays a significant role not only for large businesses but also for mid-sized and small businesses. A smooth and effective supply chain process is necessary for the better functioning of companies in this competitive world. The optimization of the operations by the Enterprise Resource Planning software maximizes productivity. Along with these benefits, ecBill ERP solutions furnish better inventory management, accurate forecasting, and improved customer service. The ecBill ERP solutions can automate purchase orders, customer demands in the market, supplier management tasks, etc. With this cutting-edge technology, the tedious manual work can be reduced, thereby minimizing the probability of human errors.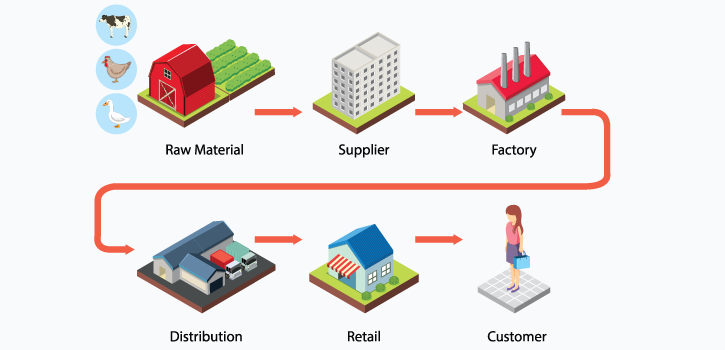 How could ecBill ERP software benefit your business's supply chain management?
ecBill ERP solutions provide better visibility toward all the sections of the supply chain so that they can enhance operational performance and maintain a competitive edge in the industry.
For businesses that target to reduce unnecessary costs and wastage time over unessential parts, ecBill ERP software could be a remedy.
When ERP software is integrated with other enterprises, such as accounting solutions, and e-commerce platforms, they could provide a better view of supply chain activities.
Getting a clearer sight of the overall supply chain lead to knowledge of the forecasting demand, evaluation of the vendor performance, consumer demands and likings in the market, tracking customer compliance, etc.
ecBill ERP software greatly helps in providing real-time data on the inventory in the stores, so that customer demands can be satisfied at sooner rates.
ecBill ERP software eliminates manual work. Consequently, it also reduces labor costs and enhances the accuracy of data entry.
Why choose ecBill for Supply Chain Management ERP software?
ecBill ERP for supply chain management is a key factor in deciding the success and profitability of the business. ecBill has well-known for our customer's needs, such that our ERP software gives you the right information in real time. The importance of providing real-time data is that it could give precise results in the hands of the people, which is further helpful for meeting customer demands. So every decision a businessman make is well-informed and is backed by real numbers. ecBill Enterprise Resource Planning software could optimize your inventory and maximizes profitability. Get the best ERP software for supply chain management in India from ecBill. Request a demo today of how we can get you customized solutions for your specific business needs.