ERP for Production Management in Chennai
ERP Software is an Enterprise Resource Planning software that helps the organization's day-to-day activities. These activities include accounting, procurement, project management, risk management, compliance, and supply chain operations. A professional ERP system furnishes enterprise resource management, planning, budgeting, and reports based on the organization's financial output. The ecBill ERP system authorizes data in any business and holds several processes. This involves the software collecting data from various resources and avoiding duplication of data. With the presence of the ecBill ERP software, the companies can be able to maintain clear resourcing and production management. This article explains the ecBill Enterprise Resource Planning software for production management in a company, its specifications, and its functionalities.
Why ecBill ERP Software for Production Management?
Management of input costs, global competition, outsourcing of variable costs of raw materials/extended supply chain availability of skilled workers are common issues specific to any production environment. With increasing customer demand for innovative product offerings, competitive prices, and consistent quality, producers are putting pressure on themselves to secure efficient operations and production management on how to create high-quality products.
With the changing business environment today, flexibility and customer satisfaction must be a priority in production environments. On the road to world-class production performance, manufacturers must review how they can change their practices and processes to support continuous product improvement and cost savings. The ecBill Enterprise Resource Planning software incorporates and reorganizes all the possible resources required to produce goods and services. Complete visibility and control of operations enable manufacturers to manage and optimize these resources efficiently, configure orders, and make inventory more effective to meet customer-driven deadlines quickly.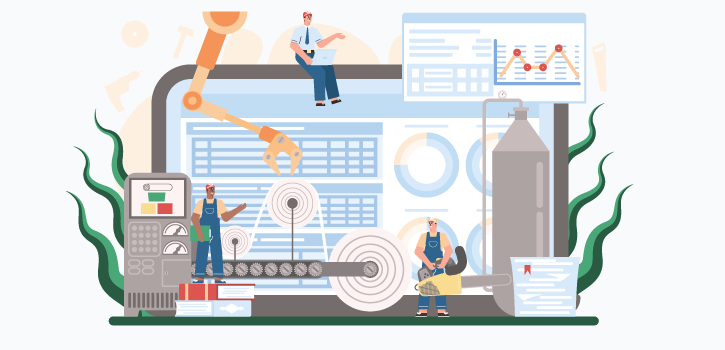 Advantages of ecBill ERP for Production Management
ecBill's ERP software provides you with integrated tools that plan, execute, record, track and control your output.
We provide transparency throughout the entire production supply and allow you to integrate with other systems in the production environment.
ecBill addresses all the key challenges that arise within the production environment, whether goods are produced on demand, in stock, or using discrete methods.
ecBill ERP software satisfies the business people by providing precise production planning, well-updated inventory, scheduling of upcoming processes, and taking control over the distribution channels.
The technically robust ERP system ultimately leads to the on-time delivery of products and services accompanied by enhanced customer fulfillment.
What are the Key functionalities of ecBill's ERP Software for Production Management?
Enhancing the Planning Process
Aligning supply with demand
Co-operative Engineering and Design
Keep track of your inventory
Maintain product and part traceability
Improve time-to-market
Enhanced electronic collaboration with trading partners
ecBill ERP software paves a way to optimize and manage the business in an effective manner. Through minimization of the costs, and improvised visibility towards the operations in the industry, the software eases the production process and management. Better transparency towards the chain of functions allows the manager to analyze the operation and accordingly strategize their future moves for the growth of the company. When upgraded with analytics capabilities, ecBill ERP software can provide reports on the ongoing trends and customer demands in the market, notifying the company's areas of improvement and potential problems before they become uncontrollable.