Supermarket Billing Software in Chennai
Are you someone who is into the retail industry? You have already burdened about identifying your customer's demand. It is not that easy to identify your customers demand and meet them through supply chain, yet you might have been a successful person or the either way. Amidst these troublesome efforts you might also be facing trouble with managing your bills and have not found a right solution yet.
When it comes to running a successful and efficient supermarket, one of the most important tools in the manager's arsenal is billing software. This program helps managers keep track of what inventory they have on hand and how much money they are making off of each item sold. Many supermarket managers believe that using billing software is one of the key reasons their stores have been able to stay afloat during tough economic times.
Supermarket billing software is a must-have for any supermarket in Chennai. It helps the store keep track of inventory, sales, and payments. The software also allows the store to manage customer data and generate reports to help improve business operations.
How to choose the right supermarket billing software for your business?
Billing software can be a vital part of any business, and it's essential to find the right one that will meet your needs and fit your budget. There are so many different types of billing software out there for the supermarket's billings. Some are better suited for larger businesses, while others may be more user-friendly for small businesses.
It can be hard to decide which one is the best fit for your business. When choosing the right software for your store, there are a few factors to consider, such as what features are important to you and how easy it is to use. Important things to consider while selecting billing software are
Easy to use
To handle a variety of tasks
Affordable
Features
Reliable
Customer-friendly
Customer support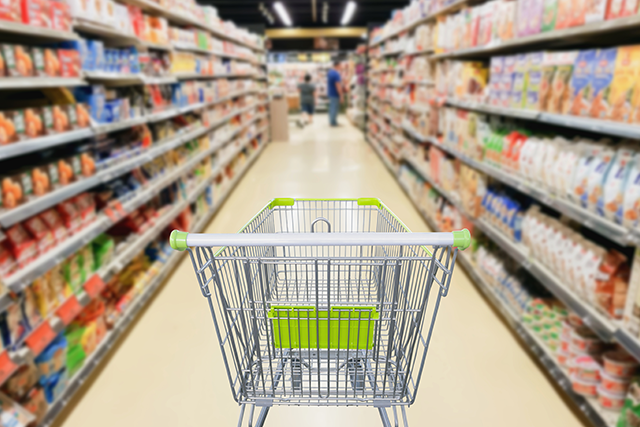 Super Market Billing Software that Makes Life Easier:
ECbill Supermarket billing software that makes it easy to keep track of your expenses and get your billing done in minutes is like a pro with our software.
Billing software is essential for all sizes of supermarkets. The most efficient way to bill for your services is through the use of billing software. It can help reduce its time to process invoices, track expenses, and more. It offers a variety of features, including easy customization and online access.
Our Supermarket billing software allows you to keep track of all your billing information in one place, making it easier to manage and process payments. It also offers billing features, such as automatic calculations and reminders for clients that make billing more efficient. It can help to reduce paperwork and errors, as well as speed up payments. In addition to efficiency, ECbill billing software can also save businesses money on processing fees and other costs associated with billing.
Why are we the best Super Market Billing Software provider in Chennai?
Good billing software should make it easy for customers to view their account information, pay bills, and track their spending. It should be reliable and easy to use. And it should be affordable. Our software meets all these criteria and even more. These are the main reasons we have been leading supermarket billing software in Chennai for over a decade.
There are a lot of different billing software providers on the market. But when it comes to customer satisfaction and reliability, ECbill Billing Software has given its best over the decade. We offer the best customer service in the industry. The software is always up-to-date with the latest industry trends.
Our software is the best in the industry, and our customer service is top-notch. We offer a variety of features that will make your life easier, and our software is easy to use. And Importantly, our pricing is very affordable.
Advantages of using ECbill billing Software:
Ease of use: ECbill is a user-friendly software for billing and invoicing. Its easy-to-use interface makes it perfect for all kinds of supermarkets.
Advanced features: Our software has more advanced features that allow users to manage the billing process efficiently and professionally. It allows users to create and manage invoices, track payments, and receive notifications when payments are due. It saves time and money by automating recurring billing processes, tracking billing activity, and identifying potential billing errors.
Affordable: We provide budget-friendly billing software that can be a great way to save money and maintain efficiency.
Secured: Secure billing software is essential for supermarkets that process credit and debit card payments. This software helps protect against fraud and makes it easy to keep track of customers' transactions. It can also help businesses save money on processing fees by automating the billing process. Our billing software is secured with strong encryption, ensuring that not even the business' employees have full access to the information.
Best Customer Support: We are well known for our excellent customer support. We have a team of experts who are available 24/7 to help customers with any issues they may have, from resolving billing errors to providing guidance on using the software.