ERP Software for Wholesale Distribution in Chennai
Enterprise Resource Planning is a powerful and effective tool that improves distribution management in a company. The software enables the company to streamline its operations and increases transparency over the processes and potential of the supply chain. It aids all sizes of businesses in managing processes, operations, and resources in an effective manner. The role played by the ecBill ERP software in the distribution management of a business displays an improved effect on the company's supply chain. So, ecBill ERP software allows companies to streamline the distribution operation of distribution goods and services. This article discusses the ecBill ERP software, its impact on a company's distribution department, and its pros in detail.
Streamline Distributor Processes with ERP Solutions
In the present competitive and updating world, the managers of a company are looking for the best system to streamline their processes. One such solution is provided by ecBill ERP distribution software. The software can maximize the visibility of the data, minimize costs, and optimize inventory management for the distributors. In addition to distribution management, they provide continuous tracking of the performance of the company, thereby moving towards the betterment of customer service. A single system of ERP distribution software includes all the options related to the distribution system, such as orders, invoicing, delivery, and billing. So, it can manage the errors arising through manual data entry and improves operational efficiency. The software informs the managers with informed data, which in turn helps while making essential decisions, providing them with real-time insights into the current trends and business.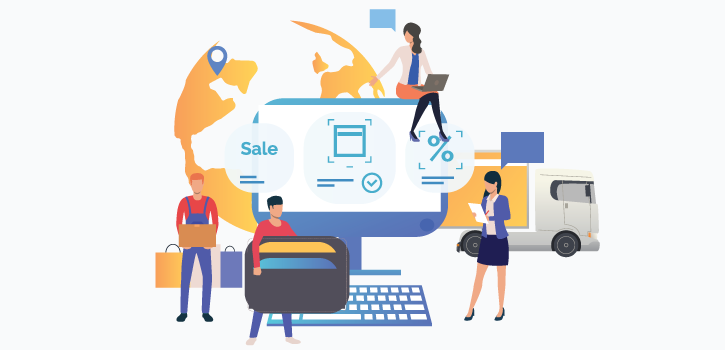 Why choose ecBill ERP Distribution Management Software for your company?
Handling a distribution network is a tedious task. For a consistently available supply of goods across a market, one company would need modules like inventory management, purchasing, sales, CRM, and bookkeeping.
To make this simpler for the distribution network, ecBill has come up with the software ecBill ERP Distribution Management Software.
This software lets you keep track of inventory details and stay notified about the least stock levels.
Have you ever imagined managing all your goods and stocks in one place? ecBill ERP Distribution Management Software is a one-stop solution that can help you access your inventory system from anywhere and anytime.
With this ERP Distribution Management Software, you will also be able to manage all your database information using filters and edit them from anywhere you wish to.
What are the characteristics of ecBill ERP software in distribution management?
SFA: ERP Distribution Management Software streamlines your data collection, analysis, and distribution.
Cloud: With ERP DMS, manage and access all your stock data under a single database on the go.
Support: ecBill's ERP DM is assisted along with a 24/7 support system for you to have hassle-free management.
Inventory: ERP DMS makes it simple and effective to handle your inventory system and yield more profit.
MIS: ecBill's ERP Management Information System can help you keep track of your inventory effectively.
Mobile App: You can experience all the features of DMS on your mobile app, just like your desktop software.
With all these features assisting your company with ecBill ERP Distribution Management System, you can have hassle-free management and streamline all your Distribution Management processes and obtain comprehensive benefits.